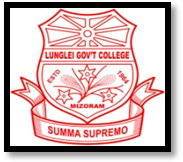 LUNGLEI GOVT COLLEGE
ENTREPRENEURSHIP KNOWLEDGE CELL
Entrepreneurship Cell has been establishment for skill Development of students in collaboration with planning and programme implementation Dept., Govt. of Mizoram.
COMMITTEE COMPOSITION
K.Lalduhawma : Convenor
Agnes L.Khawlhring : Master Trainer
Dr.T. Malsawmtluanga : Member
Z LalthanlianaLangva : Member
H.Lalremruati : Member Secretary
Dr. M Pathak : Member
LB Ngoze : Member
Dr.H.Vanlalhruaia : Member
C.Zairemthanga, Vice Principal : Adviser
LH Rothanga, Principal : Ex Officio
MAJOR ACTIVITY
2020
The cell organised Two days District Level workshop on "Innovative Challenge on Business Solution to Sustainable Development Goals" was organised on 18-19th February, 2020 in the conference Hall of LGC. The Programme was funded by Planning and Programme implementation Department, Govt of Mizoram.